Photomer 6710 - New polyurethane acrylate
---
22/11/2022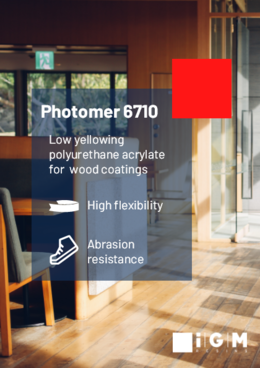 iGM Resins product development is focused on creating innovative solutions that are aligned with key market drivers and meet our global customer's needs.
We have developed Energy Curing Resins (ECR) for UV LED curing specifically for three primary market segments: industrial coatings, printing & packaging, and electrics and electronics.
Photomer 6710 is a non-yellowing aliphatic urethane di-acrylate with low viscosity.
Its primary characteristics are:
• Excellent light stability
• Chemical and abrasion resistance
• Flexibility
• Low odor
Due to its excellent cure speed, adhesion to various substrates, in-can stability, and formulation appearance, Photomer 6710 can be used in a variety of applications including industrial coatings, 3D, wood flooring, and outdoor products.
Product and Safety Data Sheets are available on our website via the product search tool. To learn more about these solutions, contact your iGM Resins sales representative or send an email to: sales@igmresins.com.